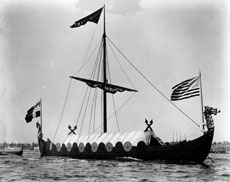 "… and that Viking was the only ship that had sailed over the Atlantic ocean, thereafter gone through the Erie Canal and through the Great Lakes and on down canals and rivers to the Mexican Gulf."
Magnus Andersen
At the conclusion of the World's Columbian Exposition, Viking was towed through the Illinois and Michigan Canal and down the Illinois River to Grafton. She then sailed down the Mississippi River to New Orleans.
Read an article from 11-29-1893 HERE. "Thousands of People View the Strange Norse Craft"
Viking remained in New Orleans over the winter.
Never able to complete her journey around Florida and up the East Coast to Washington, D.C., Viking was towed back to Chicago.
After her return, the Viking sat beside the Field Columbian Museum (now the Museum of Science and Industry) Here Viking was neglected.